Hamburg International Summer School 2020
Particles, Strings & Cosmology
19 December 2019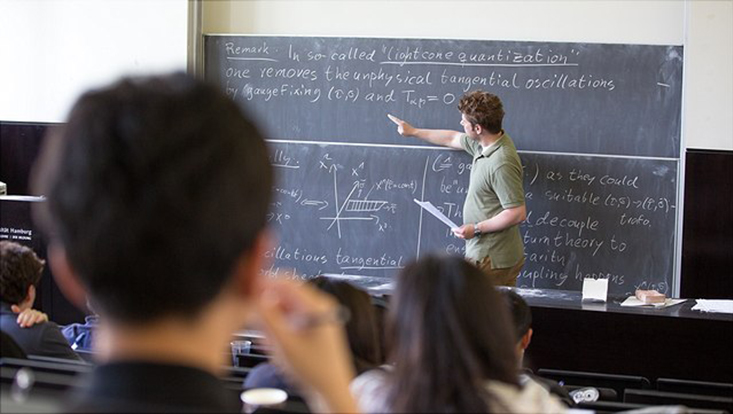 Photo: UHH
Experience a summer in metropolitan Hamburg while earning credits and expanding your knowledge in an excellent research environment with leading researchers. Applications are possible from 15 February 2020 until 15 May 2020.
Hamburg International Summer School
The idea: Further your studies at Universität Hamburg while also learning about the culture and history of Germany! In small groups, students will attend courses, field trips, and visit state-of-the-art research facilities under the guidance of leading academics.
The Hamburg International Summer School provides three different courses every year. In 2020, there will be schools on:
And the program offers more than just academic knowledge—it is a combination of cultural exchange and study in your chosen field, in excellent areas of research. Small groups learn from leading academics, and benefit from field trips and visits to research institutions. The supplementary program includes a language course and sessions on German culture and history—broadening your knowledge with field trips and excursions, and much more.
Particles, Strings & Cosmology 2020
Work with leading researchers from Universität Hamburg's Physics Department and DESY to examine theoretical concepts, expand your knowledge and discuss advanced research questions in the Particles, Strings & Cosmology Summer School. The school is offered for the third time after 2017 and 2018.
Course Descriptions
Cosmology: This course gives an overview of and introduction to modern and timely topics in cosmology. It focuses on the main theoretical concepts covering cosmic times ranging from the creation of primordial density fluctuations to the onset of structure formation. Observational signatures will be presented qualitatively and further developed in a separate module.
Particles: The course will describe the standard model of particle physics, its experimental tests and its limitations. It will cover detectors at modern colliders, tests of QCD and electroweak interactions, the discovery of the Higgs boson at the LHC and searches for dark matter and new physics.
Quantum Field Theory: Quantum field theory combines the principles of special relativity and local field theory with those of quantum mechanics. This course gives a compact introduction to this subject including classical field theory, free quantum fields, interactions, Feynman diagrams and renormalization.
String Theory: String theory is a promising candidate for a unified theory of all particles and interactions that also encompasses a quantum theory of gravity. This course gives an elementary introduction to string theory with focus on classical and quantized bosonic strings, interactions, D-branes and superstrings.
Dates & Facts
Start: 6 July | End: 31 July 2020

Applications: from 15 February 2020 until 15 May 2020

Rolling admission: EUR 900

Est. program hours: 35 hrs a week (contact time)

Credits: up to 10 credits (ECTS)

Language of instruction: English
---