European Research Council funds search for cosmic neutrinos and Dark Matter
Innovative research projects win ERC Starting Grants totaling three million euros
5 September 2023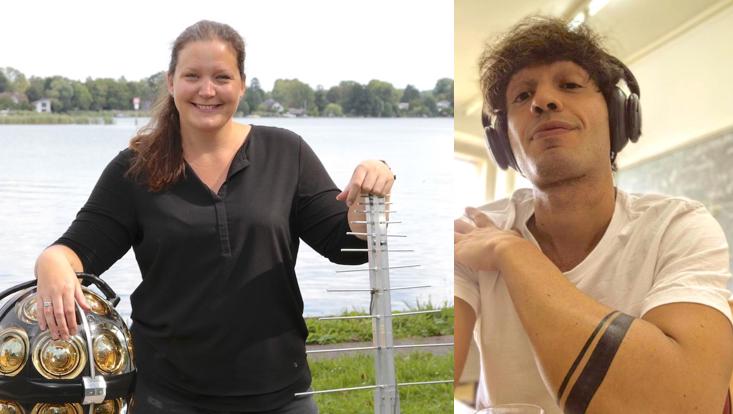 Photo: DESY / Andrea Caputo
Anna Nelles and Andrea Caputo, awardees of the ERC Starting Grant.
The European Research Council ERC is funding the search for extremely energetic cosmic particles as well as ultralight candidates for the mysterious dark matter with a total of three million euros. DESY researcher Anna Nelles, who is also a professor at Friedrich Alexander University Erlangen-Nuremberg, and Andrea Caputo, who is currently working at the European Particle Research Center CERN near Geneva, have successfully applied for so-called ERC Starting Grants with DESY as host institution. Both will receive 1.5 million euros each over the next five years for their research projects. "We congratulate both applicants and are glad to be available as host institution for these ambitious research projects," says the chairman of the DESY board of directors, Helmut Dosch.
Nelles is building a network of radio antennas on Greenland to eavesdrop on extremely energetic neutrinos from space. Neutrinos are volatile elementary particles that cannot be stopped by almost anything. They pass unhindered through walls, planets and entire galaxies and therefore reach us unhindered from the farthest corners of the cosmos and from the center of extreme processes such as supernova explosions of stars or the debris disks around black holes. Some of these particles have as much energy as a sharply hit ping-pong ball. Experiments have shown that the fast neutrinos leave behind radio waves on their way through the atmosphere as well as through the Greenland ice sheet, which can be picked up with special antennas. 
"The discovery of neutrinos with extreme energies promises new insights in both astrophysics and particle physics at energies far beyond those achievable with terrestrial particle accelerators," Nelles explains. "With such observations, we hope to reveal new sources of extremely energetic cosmic rays and better understand the propagation of these particles in space." The Radio Neutrino Observatory - Greenland or RNO-G will be the first large facility of its kind and is expected to expand to 35 stations by 2026. Construction and operation are be led by Nelles and her colleagues from the United States and Belgium.
Caputo's AstroDarkLS project focuses on the search for the mysterious Dark Matter. According to cosmological studies, Dark Matter is more than five times more abundant in the universe than the matter we are familiar with, and which is described by the so-called Standard Model of particle physics. "The Standard Model is a successful and well-verified theory," Caputo explains. "However, there are still many open questions, such as the origin of neutrino masses and the nature of Dark Matter and Dark Energy. The need for physics beyond the Standard Model is undeniable, but the question is: How and where will we find it?" 
In search of an answer to this question, the project is studying the impact of hypothetical light Dark Matter particles on a series of astrophysical an cosmological phenomena in order to identify a possible signature of these particles. "Our hope is to discover Dark Matter or at least unveil some of the mysteries of the 'dark sector'," Caputo says.  
In total, the ERC has awarded 400 Starting Grants totaling 628 million euros to young researchers from across Europe. The funding is part of the EU's Horizon Europe program. Almost 2700 scientists applied for the grants. Among the successful applicants, the proportion of women is particularly high this year at 43 percent, according to the ERC.
"It is part of our mission to give early-career talent the independence to pursue ambitious curiosity-driven research that can shape our future," emphasises ERC President Maria Leptin. "In this latest round of Starting Grants, we saw one of the highest shares of female grantees to date, which I hope will continue to rise. Congratulations to all winners and good luck on your path to discovery."