Kick-off event
dynaMENT enters its seventh round
12 October 2022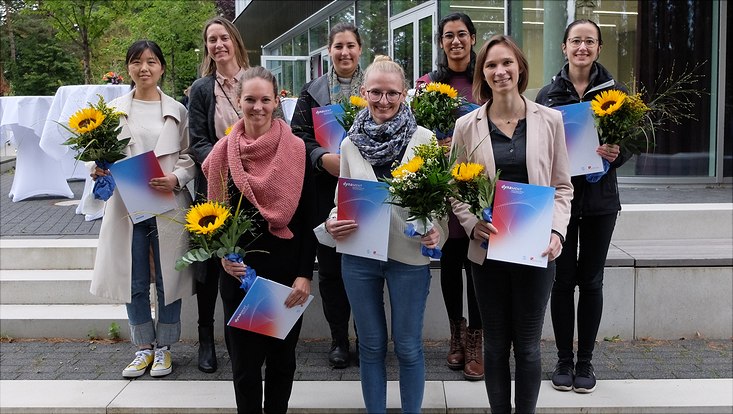 Photo: UHH/CUI/Schwanold
Farewell to dynaMENT alumni at the kick-off event for the seventh round of the mentoring program
The dynaMENT mentoring program for women in the natural sciences has entered its seventh round. At a kick-off event at the end of September, the participants of the last round were bid farewell and the female scientists of the new cohort were welcomed.
The kick-off event of the seventh dynaMENT mentoring round for female doctoral students, postdocs and junior professors from the natural sciences brought together alumni and new mentoring participants. There was an opportunity to get to know each other personally and to network at a champagne reception as well as a barbecue after an online part of the event with greetings and a keynote speech.
Prof. Dr.-Ing. Norbert Ritter, Dean of the Faculty of Mathematics, Informatics and Natural Sciences at Universität Hamburg, pointed out that research in the MIN subjects needs a higher proportion of women. dynaMENT, he said, is making a significant contribution to bringing about a change.
The patrons of the mentoring format, Dr. Angelika Paschke-Kratzin, Equal Opportunity Commissioner and Head of Equal Opportunity Unit at Universität Hamburg, and Meike Johannsen, Deputy Director of the DESY research center, emphasized in their welcoming remarks that the mentoring program has already had a great impact in recent years, in which the dynaMENT alumni have contributed significantly. Sharing experiences from mentoring plays an essential role in the decision of young female scientists from MIN subjects to apply for dynaMENT. "Groups that are underrepresented in science find it difficult to ask for help or to accept additional support. This is because there is a worry that they will be stigmatized even more and perhaps be seen as weak. Having a role model who has discovered a valuable resource and used it for themselves alleviates this concern. And it underscores the fact that dynaMENT mentoring is a once-in-a-lifetime opportunity," said Dr. Angelika Paschke-Kratzin.
In her keynote speech, particle physicist Dr. Pauline Gagnon reminded the audience that women in the natural sciences were a major exception for a long time. She also emphasized that social backgrounds still have a significant influence on the success of a career in the natural sciences. One of the main goals of the dynaMENT program is to support young female scientists, regardless of their social background, on their path in the natural sciences. dynaMENT has been accompanying young female scientists for six years and supporting them through mentoring, workshops and networking events.
About dynaMENT
The dynaMENT mentoring program is a cooperation between the research center DESY and the MIN faculty of Universität Hamburg, supported by the two clusters of excellence "CUI: Advanced Imaging of Matter" and "Quantum Universe". PhD students from the European XFEL, the Leibniz Institute of Virology (LIV, formerly HPI), the Max Planck Institute for Structure and Dynamics of Matter, the Universitätsklinikum Hamburg-Eppendorf and the Bernhard Nocht Institute for Tropical Medicine can also apply. dynaMENT is intended to accompany doctoral students as well as junior professors, (junior) group leaders and postdocs of the partner institutions in an important phase of their career development and contributes to increasing the share of women in leadership positions in the natural sciences.
Contact
dynaMENT Mentoring
Luruper Chaussee 149, Room 2038
22761 Hamburg