Eugene Demler and Valery Rubakov receive prize money of 137,036 euros each
Joachim Herz Stiftung awards Hamburg Prize for Theoretical Physics 2020 and 2021
11 November 2021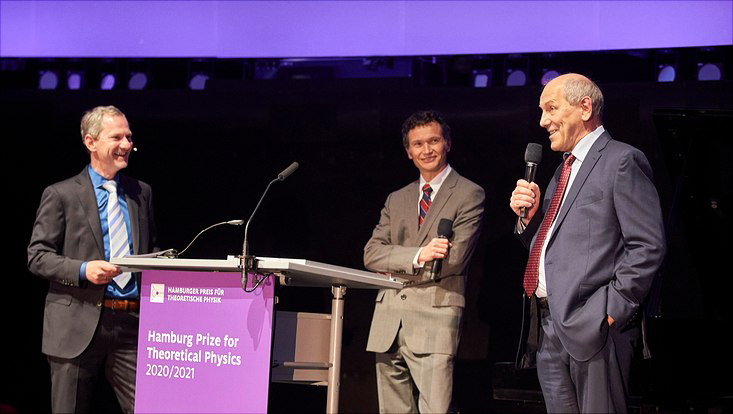 Photo: Joachim Herz Stiftung/Claudia Höhne
Russian-American researcher Eugene Demler, 2021 laureate, and Russian researcher Valery Rubakov, 2020 laureate, were honored this Wednesday with the Hamburg Prize for Theoretical Physics by the Joachim Herz Foundation in cooperation with the Wolfgang Pauli Centre of DESY and Universität Hamburg and the Clusters of Excellence CUI: Advanced Imaging of Matter and Quantum Universe. Due to the Corona pandemic, last year's award ceremony had been postponed.
Prof. Demler and Prof. Rubakov received the Hamburg Prize for Theoretical Physics for their remarkable contributions to theoretical physics. Valery Rubakov, scientist at the Institute of Nuclear Research of the Russian Academy of Sciences in Moscow and professor at Lomonosov Moscow State University, was awarded with the 2020 Hamburg Prize for Theoretical Physics for his contributions to various topics in quantum field theory, elementary particle physics and cosmology, e.g. on the quantum origin of matter in the early universe. Whereas Eugene Demler, former member of Harvard University and now scientist at ETH Zürich, received the 2021 prize for his research on quantum matter. The award ceremony took place at the Hamburg Planetarium in the presence of Katharina Fegebank, Hamburg's second mayor and science senator, and featured Quantum Universe Spokesperson Géraldine Servant who gave the laudation for 2020 laureate Valery Rubakov.
"We are very pleased to be able to award two outstanding scientists in the field of theoretical physics today. Both have given important impulses for research in numerous fields of physics with their work. We hope that their stays in Hamburg will also provide local physicists with new food for thought for their work and thus help to further strengthen Hamburg as a center of science," said Dr. Henneke Lütgerath, Chairman of the Executive Board of the Joachim Herz Foundation at the award ceremony. Both award winners will conduct research visits and talks with their Hamburg research colleagues in the upcoming months.
"Valery Rubakov and Eugene Demler's research covers numerous fields in which physicists at the University of Hamburg and at non-university research institutions are working. We are all very much looking forward to the exchange with the two colleagues," said Prof. Volker Schomerus, jury chairman for the award, senior scientist at DESY, Principle Investigator at Quantum Universe and spokesperson of the Wolfgang Pauli Centre. Founded in 2013, the centre promotes interdisciplinary exchange between theoretical physics research institutions in Hamburg.
Contact
Principal Investigator, Deputy Spokesperson
Notkestraße 85, Room O1.139
22607 Hamburg
Dr. Michael Grefe
Scientific Manager
Luruper Chaussee 149, Room 117, Building 67
22761 Hamburg