This page:UHH > MIN > Quantum Universe > Public > News > Aurorae discovered
Beyond our Solar system
Aurorae discovered on distant stars suggest hidden planets
11 October 2021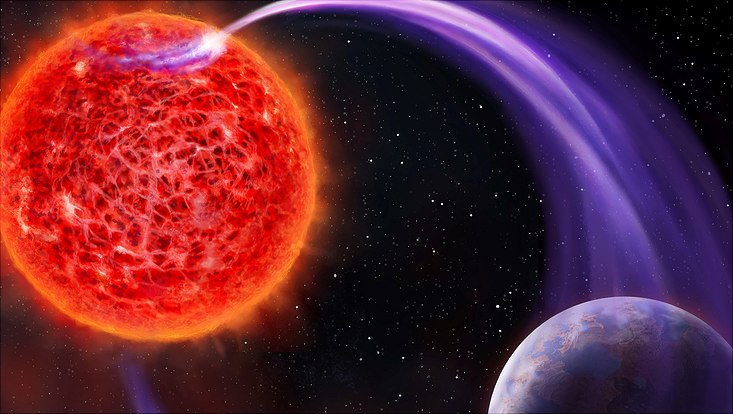 Photo: ASTRON/Danielle Futselaar
Using the radio telescope LOFAR, scientists have discovered stars unexpectedly blasting out radio waves, possibly indicating the existence of hidden planets. The research was recently published in Nature Astronomy.
Under the leadership of the University of Leiden in the Netherlands, astronomers have been searching for aurorae from planets by using the radio telescope Low Frequency Array (LOFAR). The scientists discovered signals from 19 distant red dwarf stars, four of which are best explained by the existence of planets orbiting them.
"This is a remarkable discovery! If confirmed, it would allow us to probe the presence of magnetic fields shielding exoplanets, a fundamental ingredient to clarify their habitability. The discovery is one of the applications of low frequency radio astronomy, on which our group at the Hamburg Observatory is specialized", says junior professor Francesco de Gasperin from Universität Hamburg.
Planets of our own solar system emit powerful radio waves as their magnetic fields interact with the solar wind. This same process drives the aurorae we see at the poles of the Earth.
The LOFAR telescope provides the sensitivity to detect auroral emission outside our Solar System. The scientists consider this to be a powerful tool to help find planets outside our Solar System and to determine their magnetic fields.
Contact
Key Researcher
Gojenbergsweg 112, Room 110
21029 Hamburg