Latest developments in particle physics at the EPS-HEP conference
Virtual Conference with 2,000 International Participants
3 August 2021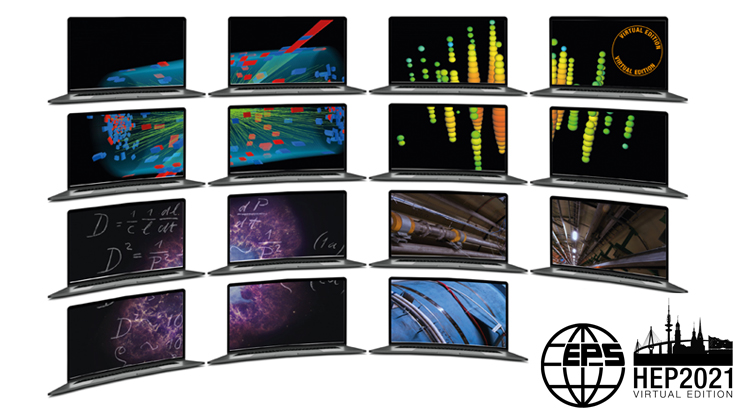 Photo: B. Liebaug/DESY
From 26 to 30 July, nearly 2,000 international scientists gathered virtually at the European Physical Society's Conference on High Energy Physics, EPS-HEP. The conference was jointly hosted by Universität Hamburg and Deutsches Elektronen-Synchrotron (DESY).
Aside from traditional overview talks summarizing the current state of the research field, numerous results were presented to the public for the first time at the EPS-HEP conference. Scientific highlights included the measurement and calculations of the magnetic moment of the muon, as well as news and discussions around so-called B-anomalies, which may show first indications of deviations from the Standard Model of particle physics. Recent results on the physics of the Higgs boson and the search for dark matter from the experiments at CERN's Large Hadron Collider particle accelerator were likewise relevant. European roadmaps for accelerator and detector physics were also intensively discussed.
"Scientifically, the conference was a complete success. We as organizers are glad that everything also worked technically as planned at this first virtual edition of EPS-HEP," says Professor Dr. Johannes Haller of Universität Hamburg, who prepared the virtual EPS-HEP conference together with colleagues from the Institute of Experimental Physics and DESY. The team was supported by the Cluster of Excellence Quantum Universe. The conference program included nearly 900 contributions from high-energy and particle physics, astroparticle physics, neutrino physics and related scientific fields, as well as diversity, education and outreach.
Usually, the EPS-HEP conference is hosted on-site in a European city every two years. Then, in addition to the scientific conference program, there is also a social program that brings participants closer to the city and provides insights into the scientific scene there. This year, everything was different. Therefore, the organizers used various interactive virtual formats. "Even though virtual formats cannot completely replace face-to-face contact, they offer very interesting opportunities for our community in times of a pandemic," says Johannes Haller. 300 scientific posters were presented virtually, and interested parties were also able to follow a live tour of the Bahrenfeld Campus online. In a virtual evening lecture, Professor Dr. Christian Weinheimer (WWU Münster) took the science-interested public along on "The Search for the Mysterious Dark Matter." In 2023, the conference can hopefully take place locally in Hamburg before the conference organization is passed on to the next city. The university's Audimax has already been reserved.
The EPS-HEP Conference
The EPS-HEP conference has been held every 2 years since 1971 and is one of the most important international conference series in particle physics. It is organized by the High Energy and Particle Physics Division of the European Physical Society and hosted alternately by European universities and research institutions.
Contact
Principal Investigator
Luruper Chaussee 149, Room 101
22761 Hamburg
Dr. Ties Behnke
Principal Investigator
Notkestraße 85, Room O1.517, Building 1e
22607 Hamburg