This page:UHH > MIN > Quantum Universe > Public > News > Otto Stern-Prize 2021
Award for the best Master's thesis
Finn Labe receives Otto Stern-Prize of the Department of Physics
12 July 2021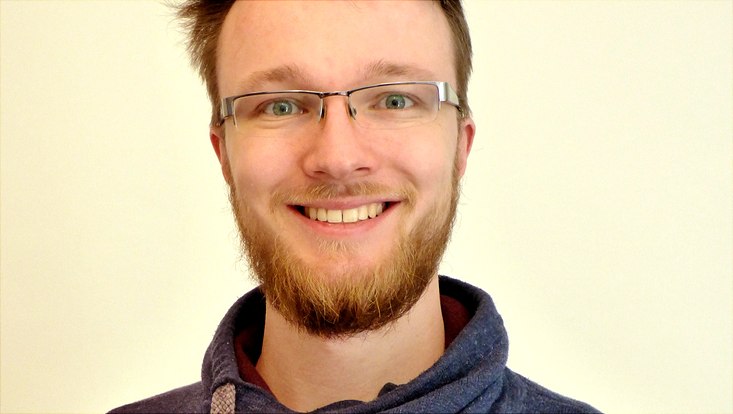 Photo: Private
For his Master's thesis on the search for hypothetical particles in the data from particle collisions at the CMS experiment of the Large Hadron Collider (LHC) at CERN, Finn Labe receives the Otto Stern-Prize of the Department of Physics at Universität Hamburg.
Finn Labe is particularly interested in the excited top quark, a theoretically predicted elementary particle that has not yet been experimentally detected. To accomplish this, he simulated in his Master's thesis how it would behave in the CMS detector. Using data from particle collisions, he then checked how sensitive the algorithm developed for searching for the excited top quark is. Labe used machine learning methods to distinguish between the excited top quark and other similar particles.
Finn Labe is now developing the topic of his Master's thesis further into a doctoral dissertation at the Institute of Experimental Physics in the research group of Prof. Dr. Johannes Haller and is also conducting research on the development of machine learning algorithms for the CMS trigger. About 40 million times per second, the trigger decides whether a physically interesting event has occurred in a particle collision in the accelerator. At the heart of the trigger's electronics are special integrated circuits called field programmable gate arrays (FPGAs). "Applying machine learning to FPGAs is a very new topic that has only recently been explored at the CMS experiment. It is exciting to be working on techniques that could shape physics at the CMS experiment for many years to come," says Finn Labe. The use of machine learning improves the sensitivity of the trigger, so that in the future it will be possible to detect processes that primarily involve low-energy particles.  
Elementary particles, the smallest building blocks of matter, and their interactions are described by the so-called Standard Model. However, there are some effects the Standard Model cannot explain, such as the existence of dark matter. Researchers have therefore developed theoretical models that complement the Standard Model and predict, among others new, hypothetical elementary particles such as the excited top quark. The CMS experiment at CERN's LHC particle accelerator is one of the experiments on which international scientists are working in order to experimentally prove the existence of hypothetical elementary particles.
Otto Stern-Prize
The Association of Friends and Sponsors of Physics at Universität Hamburg has been awarding the Otto Stern-Prize for the best Master's thesis in the physics program once every semester since 2005. The award is named after Otto Stern (1888-1969), who was the head of the Institute for Physical Chemistry at Universität Hamburg from 1923 to 1933. During this time, he made pioneering contributions to the development of the molecular beam method and the discovery of the magnetic moment of the proton, for which he was awarded the Nobel Prize in Physics in 1943.
M.A. Finn Labe
PhD Student
Institute for Experimental Physics
Luruper Chaussee 149, Room 102, Building 68
22761 Hamburg