This page:UHH > MIN > Quantum Universe > Public > News > Annual Meeting 2021
Second annual meeting at the Cluster of Excellence Quantum Universe
15 April 2021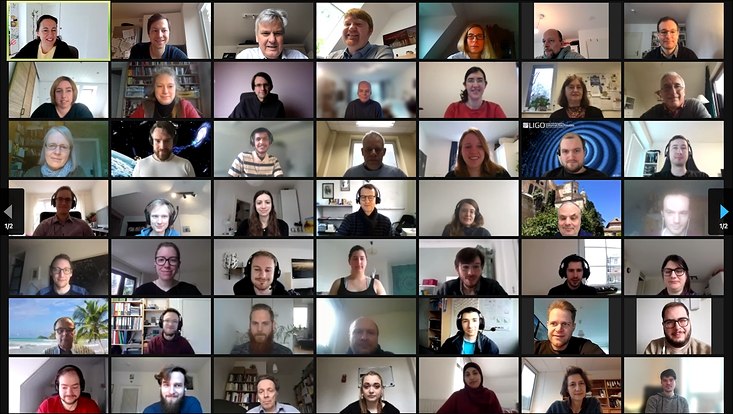 Photo: UHH/Grefe
The second annual meeting at the Cluster of Excellence Quantum Universe took place from 22 to 25 March 2021. At the four-day meeting, more than one hundred scientists of Universität Hamburg and Deutsches Elektronen-Synchrotron (DESY) gathered online for an exchange on scientific topics and the strategic development of the research projects. A special highlight of this year's annual meeting was the award ceremony of the Beate Naroska Guest Professorships.
In 2021, the Cluster of Excellence Quantum Universe entered its third year. This was the reason for the scientists to take a close look at the status of the projects from the four research areas Higgs Physics, Gravitational Waves, Dark Matter and Quantum Theories, as well as from the four cross-thematic platforms Innovation in Detector Sciences, Theoretical and Mathematical Physics, Future Facilities and Challenges in Data Science during the annual meeting. The strategic development of the Cluster until the end of its term in 2025 was also on the agenda.
A highlight of the annual meeting was the first award ceremony of the Beate Naroska Senior and Junior Guest Professorships. Theoretical physicist Prof. Dr. Belén Gavela (Universidad Autónoma de Madrid) and mathematical physicist Dr. Kasia Rejzner (University of York) were awarded for their outstanding scientific achievements and their commitment to advancing equal opportunities for women in physics and mathematics. The guest professorship programme at the Cluster of Excellence Quantum Universe is named after particle physicist Beate Naroska (1943-2008). She taught at Universität Hamburg, conducted research at DESY experiments and was a mentor for numerous young researchers.
The annual meeting also included a Quantum Universe Day. This format is traditionally dedicated to the exchange of research results and takes place at regular intervals several times a year. In addition to thematic parallel sessions, for the first time there was a competition organised by the PhD Students' Council in which young scientists competed against each other with three-minute entertaining talks on their research topics. The first three places went to Philip Sørensen, Sven Bollweg and Jorinde van de Vis.
Contact
Universität Hamburg
Cluster of Excellence Quantum Universe
Scientific Manager
Luruper Chaussee 149, Room 117
22761 Hamburg