This page:UHH > MIN > Quantum Universe > Public > News > Hamburg International Summer School 2021
Particles, Strings & Cosmology
Hamburg International Summer School 2021
7 April 2021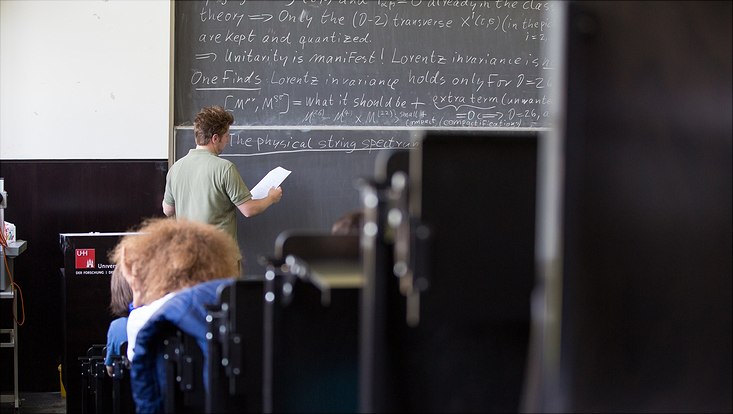 Photo: UHH
The Hamburg International Summer School provides three different courses every year and encourages you to further your studies while also learning about the culture and history of Germany! In the course of our program Particles, Strings & Cosmology, you will be able to work with leading researchers from Universität Hamburg's Physics Department and DESY to examine theoretical concepts, expand your knowledge and discuss advanced research questions in the Particles, Strings & Cosmology Summer School.
The summer school's program offers more than just academic knowledge—it is a combination of cultural exchange and study in your chosen field, in excellent areas of research. The supplementary program includes a language course and sessions on German culture and history.
Core Topics
General Relativity
Quantum Field Theory
Modern Topics in Cosmology
Particles
String Theory
Dates & Facts
5 July - 30 July 2021
Est. program hours: 25 – 30 hrs a week (contact time)
Credits: up to 8 credits (ECTS)
Language of instruction: English
Subject specific classes are delivered through a mix of pre-recorded sessions and live sessions from mondays to fridays from 2 pm to 6 pm Central European Summer Time (CEST).
Application
Please apply using our application portal. Application period starts on 1 March 2021.
We are usually able to process your application within 2–3 weeks.