This page:UHH > MIN > Quantum Universe > Public > News > Master Scholarships
"A glimpse into what life in research looks like"
Interview with Quantum Universe Master Fellows
23 July 2020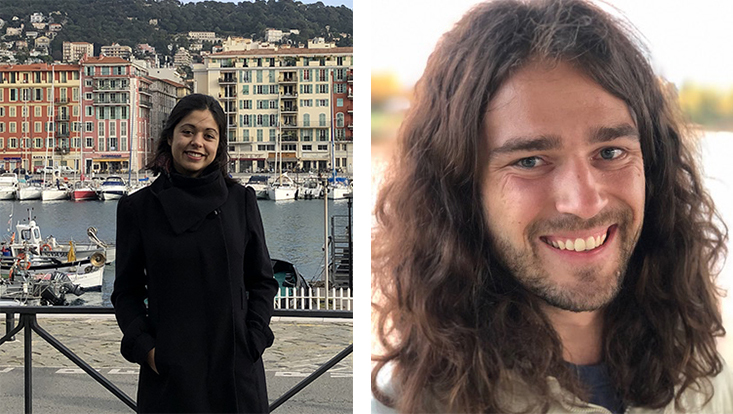 Photo: B. Boveland/O. Ghosh
Quantum Universe Master Fellows Lisa Mickel (left) and Isak Stomberg (right).
Lisa Mickel and Isak Stomberg are among the first holders of a Quantum Universe Master Scholarship. The scholarship provides a stipend for one year supporting fellows during their M.Sc. studies and the opportunity for fellows to participate in research projects in the framework of the Cluster of Excellence. Here, Lisa Mickel and Isak Stomberg talk about their experiences as Quantum Universe Master Fellows and how the Corona pandemic affects their daily university life.
Where are you from and how did your academic education lead you to Quantum Universe?
Lisa Mickel: I was born in Cottbus, Germany. During high school, I spent some years in Hamburg, but obtained my Abitur at the German European School Singapore. I am currently enrolled in the Master of Science in Physics at Universität Hamburg. During my Master, I spent an Erasmus semester at the University of Helsinki. I also completed my Bachelor in Physics at Universität Hamburg and finished my thesis in experimental particle physics under the supervision of Prof. Peter Schleper. I am now working on my Master's thesis in the Discrete Quantum Gravity group of Dr. Benjamin Bahr at the II. Institute for Theoretical Physics.
Isak Stomberg: I am from Norrbo, a village in the middle part of Sweden, located in an old meteorite crater named Dellen. I began my studies at KTH, the Royal Institute of Technology of Sweden, where I pursued a five-year integrated Master's program in Engineering Physics with a specialization in Subatomic and Astrophysics, part of which I spent at the California Polytechnic State University and the University of Barcelona. Currently, I am enrolled in the Master of Science in Physics at Universität Hamburg, working on my Master project in the Dark Matter area of the Cluster under the supervision of Dr. Kai Schmidt-Hoberg and Dr. Camilo Garcia Cely of the DESY Theory Group.
What is the focus of your Master studies?
Lisa Mickel: I focused mainly on theoretical and astrophysical subjects. This led me to my Master's thesis, where I study effective models for the Schwarzschild black hole interior within the framework of Loop Quantum Gravity. Previously studied effective models resolve the singularity at the center of black holes, and allow evolving the system further up to a white hole type horizon. My project specifically aims at probing how the model phenomenology is affected by the choice of the Hamiltonian and the regularization parameter.
Isak Stomberg: My current focus is theoretical high-energy physics and to enrich my academic repertoire at an intersection of quantum field theory, particle cosmology of the early universe, and general relativity. In my Master's thesis, I am exploring the phenomenology of self-interacting dark matter in the context of early universe cosmology.
What does your daily university life as a Quantum Universe Master Scholarship holder look like?
Lisa Mickel: I mostly work on my thesis and attend lectures, as any graduate student. Prior to Corona, I spent my days in a shared office in the theory building on the Bahrenfeld campus. One important difference with the scholarship for me is that I no longer work alongside my studies, which gives me time to attend additional lectures out of interest within the Quantum Universe Cluster, such as beyond the Standard Model phenomenology, conformal field theory, and cosmology,  whilst completing my thesis work.
Isak Stomberg: The Corona pandemic has made access to a rich university life vanishingly small, restricted to virtual meetings and lectures from the home office. As the situation hopefully gradually returns to normal, I look forward to exploring Hamburg and its rich musical traditions while spending much more time on-site at the campus, developing potential collaborations and in-person connections.
In which way are you benefiting from the scholarship and the Cluster context?
Lisa Mickel: I enjoy participating in Cluster activities like the Quantum Universe Days or Lectures. To me it is important to have a larger overview and insight into topics that are related to, but outside my active field of research. The Cluster activities facilitate exactly that exchange. During the Quantum Universe Days, I like to attend talks from different areas and despite not understanding everything, I feel it has given me a broader idea of exciting research avenues that aim to improve our understanding of the universe.
Isak Stomberg: Allowing me to be an integrated part of research, the scholarship provides me with invaluable experience and connections that would be difficult to obtain otherwise at this stage of my academic training. It gives me the opportunity to explore various topics in-depth, and to diversify my knowledge through colloquia and lectures. They offer me a glimpse into what life in research looks like and help me narrow down on my core areas of interest to build upon through an academic career.
What are your plans once your Master's thesis is finished?
Lisa Mickel: I would like to continue with a PhD project.
Isak Stomberg: I want to spend some time during the summer working towards an advanced diver's license, as well as studying for a sail plane's license and composing a musical piece for orchestra and choir. After this brief, but hopefully enriching and rewarding time, I wish to commit to doctoral studies in theoretical physics, possibly at Universität Hamburg or DESY in case the opportunity arises.
The interview was conducted by Anna Walter.
Scholarships for Master's Students within Quantum Universe
The Cluster of Excellence Quantum Universe offers scholarships to support the academic qualification in the framework of physics and mathematics Master's programs of Universität Hamburg. Scholarship holders complete the corresponding curricula, but at the same time participate in freely selectable research projects within the Cluster of Excellence. Scientific topics include particle physics, astrophysics, cosmology and mathematical physics. Research projects include, for example, Higgs physics, dark matter, gravitational waves and mathematical methods of quantum field theory, but also machine learning and detector development.
Currently, applications for scholarships starting in the upcoming winter term are accepted. The deadline is 31 July 2020. The scholarships are endowed with €800 per month for a duration of 12 months. (Advertisement, FAQs)
Contact
Universität Hamburg
Cluster of Excellence Quantum Universe
Outreach Officer
Luruper Chaussee 149, Room 116
22761 Hamburg