Explore black holes and gravitational waves with a smartphone or tablet
18 June 2020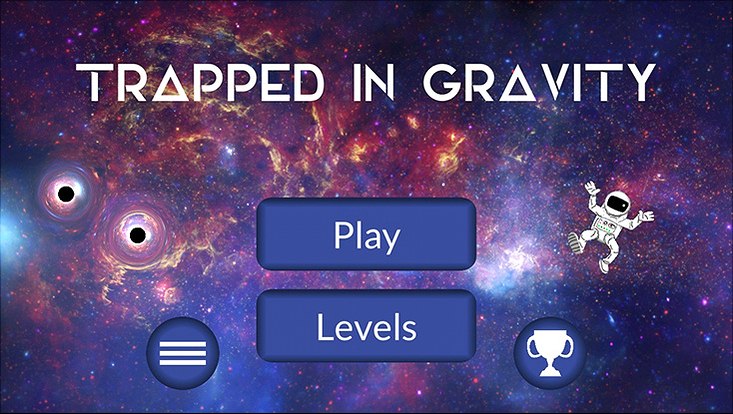 Photo: UHH/Tohermes/Franke, NASA
Why are black holes black? What are gravitational waves? And what can we learn about the universe using gravitational waves? The game app Trapped in Gravity provides playful insights into the physics surrounding mass, gravitational forces and black holes. The game was developed by researchers from the Cluster of Excellence Quantum Universe at Universität Hamburg.
An astronaut is in danger of being swallowed up by a black hole. Now it is up to the users of the app to save the space traveler. To do so, the players have to pick up the astronaut with a spaceship and return to Earth. However, this is easier said than done, as the spaceship is also subject to the gravitational pull of the black holes. If the players steer too close, they risk losing the spaceship to the black hole.
In the three levels of Trapped in Gravity, app users encounter different arrangements of black holes: a single one, a binary system of two black holes circling around each other, and two black holes merging together. Information texts provide insights to the physics behind the level settings and about the exploration of the universe through the observation of gravitational waves. Gravitational waves occur during extreme astrophysical events, such as the fusion of two black holes. An online dossier for the app provides in-depth information on selected topics. The game is suitable for teenagers interested in physics from the 8th grade and curious people of all ages.
The app was developed by early career researchers from the Cluster of Excellence Quantum Universe under the direction of Prof. Dr. Roman Schnabel (Institute of Laser Physics). The physics professor explains where the idea for the game app came from: "We wanted to develop something vivid and playful in the context of the observation of the first gravitational waves in 2015. We also wanted to incorporate our expertise in electronics and accelerometry. The idea was born to develop an app for smartphones. Now interested people have the chance to learn about black holes and gravitational waves in a playful way."
Benedict Tohermes, PhD student in the group of Prof. Roman Schnabel, was involved in the development of Trapped in Gravity: "The main focus was on the visualization of physical phenomena. The diffraction of light around a black hole and the generation of gravitational waves are impressive effects of astrophysics. With the app we want to offer the possibility to explore and understand these on an intuitive level".
The game is available for free download for iOS from the App Store and for Android from the Play Store.
---
Contact
Universität Hamburg
Institut für Laserphysik
Principal Investigator, Outreach and Transfer Director
Luruper Chaussee 149, Room 122
22761 Hamburg