The laureates of the Beate Naroska Senior and Junior Guest Professorships 2020 have been announced
13 May 2020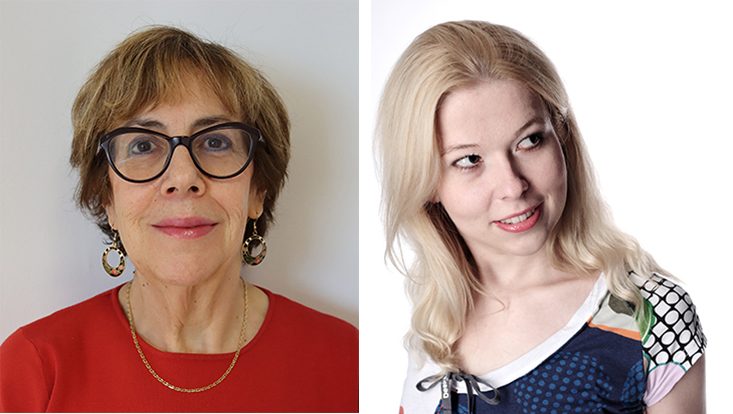 Photo: Gavela privat, Studioline Photography
The laureates of the Beate Naroska Senior and Junior Guestprofessorships 2020, Prof. Dr. Belén Gavela and Dr. Kasia Rejzner
The first Beate Naroska Guest Professorships of the Cluster of Excellence Quantum Universe go to the physicists Prof. Dr. Belén Gavela (Universidad Autónoma de Madrid) and Dr. Kasia Rejzner (University of York). Both scientists receive the award for their outstanding research in theoretical particle physics and mathematical physics as well as for their active involvement in creating equal opportunities for women in physics.
The Beate Naroska Senior Guest Professorship goes to the theoretical particle physicist Prof. Dr. Belén Gavela. She is the first woman to hold a staff position at CERN Theory Division. In her home country Spain, she is the first female full professor in theoretical physics. Since 1996 she has been teaching and researching at the Institute for Theoretical Physics at the Universidad Autónoma de Madrid (IFT-UAM/CSIC) and has accompanied a large number of successful young female scientists. She is already collaborating with the scientists at the Cluster of Excellence Quantum Universe in Axion research.
Prof. Dr. Belén Gavela: "It is a great honor and an exciting prospect to work with the Hamburg youngsters besides the senior colleagues and friends there. At a personal level, I always have great fun working with youngsters. They tend not to realize how their ,naïve' questions prompt most often the most innovative lines of research. I also hope very much that my visit will help to attract young females to science. Germany is doing a decided effort in this direction. This effort seems very promising and may become a lighthouse for other countries. I am very happy to have the chance to contribute to it."
Dr. Kasia Rejzner (University of York) is awarded the Beate Naroska Junior Guest Professorship. Since 2013 she has been a lecturer at the Department of Mathematics at the University of York. In 2011 she passed her doctorate at Universität Hamburg under Prof. Dr. Klaus Fredenhagen (II. Institute for Theoretical Physics, retired) with distinction. In her research she focuses on mathematical quantum field theory.
Dr. Kasia Rejzner: "I very much enjoy the atmosphere of Universität Hamburg and DESY, where physicists and mathematicians come together to work on fundamental problems of quantum physics and gravity. I'm looking forward to hearing about new developments in cosmology and in gravitational wave physics, since both of these areas are promising windows to get a peek at quantum gravity, which is one of my main research interests. I hope for exciting and productive discussions about these and many other topics with the members of the Excellence Cluster, especially with the early career researchers."
Whether and when the two scientists will be able to come to Hamburg for a research stay in the next few months is still open due to travel restrictions and precautions related to the corona virus.
The Cluster of Excellence Quantum Universe called applications for the Beate Naroska Guest Professorship for the first time at the end of 2019. The guest professorship honors the scientific excellence of international female scientists and their commitment to creating equal opportunities for women in cluster-related research fields. Quantum Universe awards each a senior and a junior guest professorship every year, endowed with 7,500 and 5,000 euros respectively.
Beate Naroska
Particle physicist Beate Naroska (1943–2008) was a professor at Universität Hamburg from 1989 to 2008. During this time she was one of the leading scientists of the H1 experiment at DESY's HERA collider. As a professor, she was a mentor for many students and young researchers. Beate Naroska studied physics in Göttingen and Hamburg. After her diploma she received her doctorate at Universität Hamburg under Martin Teucher. From 1971 to 1978 she worked at CERN, where she conducted research on proton–proton scattering and on the development of multiwire proportional chambers.
Contact
Universität Hamburg
Cluster of Excellence Quantum Universe
dynaMENT Mentoring
Luruper Chaussee 149, Room 2038
22761 Hamburg