New offer for postdocs at DESY: COAST
Talent management through professional career planning
11 May 2020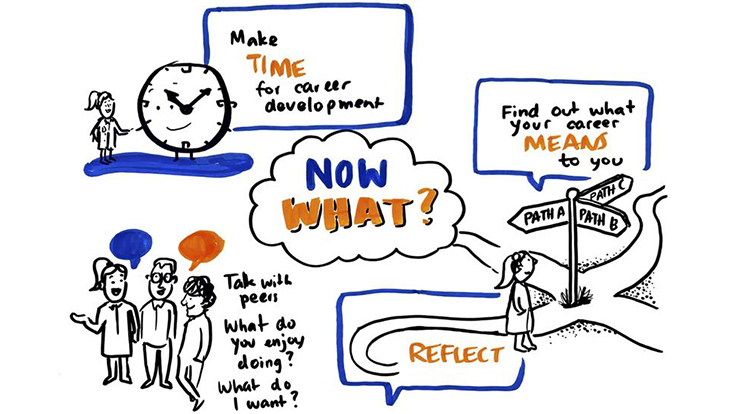 Photo: Anna Lena Schiller, Riesenspatz
COAST helps postdocs develop their careers.
Official opening, virtual version: on 11 May a new project at DESY officially kicked off. Funded by the Helmholtz Association, it supports young academics in their career planning outside of the world of academia. COAST – "Career Orientation and Skills Training for Postdocs" - cooperates closely with group leaders and principal investigators in the scientific groups at DESY, who as multipliers also belong to the target audience of the project. From now on, postdocs can make use of a wide range of offers and services such as individual career counselling, workshops, meetings with former DESY postdocs and network events, so that they can approach their career planning more professionally and implement it themselves.
Postdocs are young scientists who have completed their PhDs and who work in science and research after their doctorate. DESY usually employs them for three years in this qualification phase, because it is common and welcome practice in science that young scientists gain experience in different projects and countries. Currently, DESY employs about 250 postdocs in all research areas. Statistics show that about 80 percent of all postdocs have to or want to leave research, among other reasons because there are not enough permanent positions available.  
Young scientists are in great demand outside of research because they have a lot of expertise and skills that are needed in industry and other professional fields. However, some are not even aware of this or have no idea in which areas they can also use their skills. The HR development experts Katja Frerks and Vera Petersen are the leaders of the COAST programme. "With COAST, we want to support postdocs in recognising their own potential and talents," says Katja Frerks, and Vera Petersen adds, "they can then reconcile these with career opportunities that are open to them outside of science."
Some services and offers have already been tested in the course of setting up the project. These included the first network meetings as well as initial advisory services. Due to the current situation, all services are being offered in virtual formats. Even the originally planned celebration in the already booked lecture hall for the opening of COAST had to move to a virtual room. 
DESY Director in charge of Astroparticle Physics Christian Stegmann officially opened COAST. During a two-hour event, some 100 participants listened to a lecture by a talent management and mentoring expert and had the opportunity to get to know career paths of former DESY postdocs, one of whom is now working as a data scientist at the aerospace company Airbus, for example. 
With the opening of COAST, DESY enters a new dimension of talent management and establishes a new attractiveness factor in the worldwide competition for the best scientific talents. COAST relies on participation of both, postdocs and scientific managers. They offer advice and support - ideas and suggestions for innovative offers and services are always welcome. More information is available at coast.desy.de.
---